YADUPATI SINGHANIA INSTITUTE OF TECHNOLOGY Pvt. ITI
Kailashnagar , Nimbahera Dist- Chittorgarh (Raj.)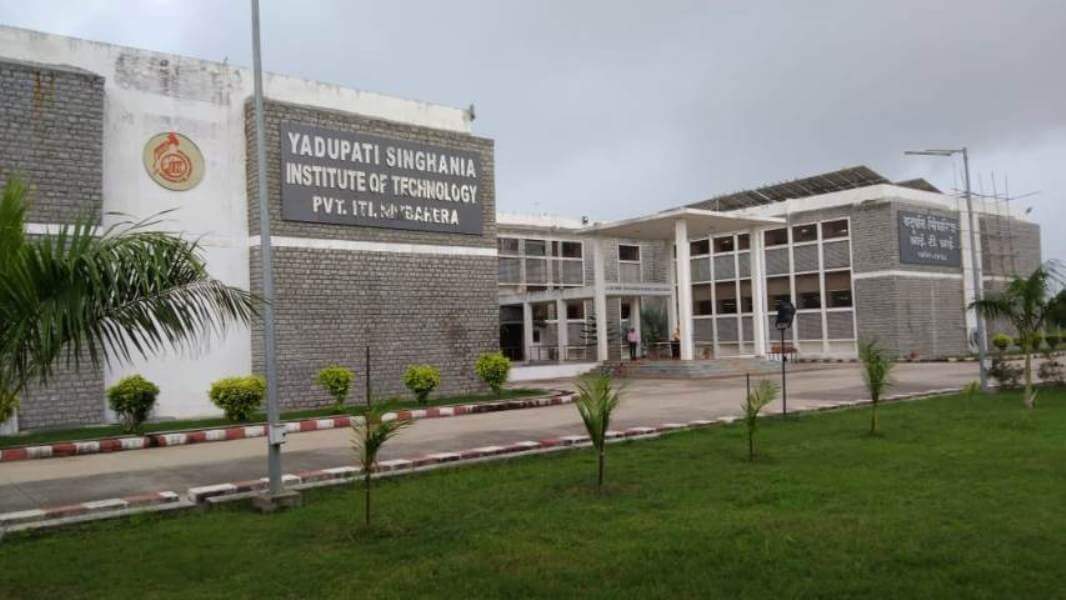 ABOUT INSTITUTE
If you want to help someone

"Give them skill training not money, money they can spend but skill they can use to feed their family. Reach to the neediest and make them skilled, so that they can join the stream of nation building process.''
With this vision and mission of our honourable Former Late CMD  Sh. Yadupati Singhania Ji, J.K. Cement Ltd  initiated this Vocational and skill development training institute :
Yadupati Singhnia Institute of Technology founded on the vision  of our honourable Former Late CMD  Sh. Yadupati Singhania Ji, came in to existence in 1992 at Nimbahera (Rajasthan).Today with more than 25 years experience of quality training , this institute is imparting top class vocational training for the youth to get better employment opportunities.
The journey of Yadupati Singhania Institute of Technology Nimbahera for more than 25 years has been an enduring one with all efforts pooled in to focus on nurturing the Institute to achieve the status of most preferred vocational institute in the country.
The institute was started in 1992 with only two trades viz Electrician & Electronics Mechanic. Today it is imparting vocational training in different disciplines and total more than 700 trainee capacities. The institute is counted among the top institutes in the country for the world class infrastructure, better training quality, outstanding result and placement.
Institute is an ISO 29990:2010 certified institute .
Training at the institute is based on high level of discipline, overall development of the trainee to get better employment opportunities.
Institute is among the first institute in India who adopted DST scheme of training and successfully conducting the scheme in different trades.
Institute is having a green building campus which is awarded by Energy and Environment Foundation in Platinum category and achieved Gold Certificate from US Green Building Council
Institute is located in Industry premises itself which is helpful for the trainees to understand the industrial work culture. Its more than 25 candidates secured first rank in the state in last 25 years. .
The institute has been having excellent campus placements as well as  selections in govt. sectors. Institute placement cell is directly in contact with more than 100 companies of the country, conducts campus placement and  job fair time to time for final semester/passed out trainees.
Institute also assists to interested trainees in preparation of govt. sector vacancies and for getting self employments
About more than 2000 passed out trainees are working in top most govt. and private organisations of our country and abroad like RAPP, BARC, Delhi Metro, ISRO,  Tata Motors, Larsen and Tubro, Prasar Bharti, Indian Oil, NTPC, Proctor and Gamble etc.
Institute also encourages self employment or entrepreneurship and helps for the interested candidates.
In order to give direct industrial exposure for improving trainees' employment potential the institute has MOU with many big industries like Mahindra Trucks & Buses Ltd., Tata Motors, Daikin Air conditioning Ltd. J.K. Cement ltd. etc.
About Institute
| | | |
| --- | --- | --- |
| a | Name of the Institute :  | YADUPATI SINGHANIA INSTITUTE OF TECHNOLOGY Pvt. ITI |
| b | Address of the Institute :  | KAILASH NAGAR -2, NIMBAHERA, DIST- CHITTORGARH (RAJ.), PIN CODE- 312617 |
| c | Date of Establishment :  | 21.09.1992 |
| d | DGET FILE REFERENCE NO :  | DGET-6/20/2/1995-TC |
| e | INSTITUTE STATE CODE :  | P-106 |
| f | Contact No :  |  01477-294649 |
| g | Mobile No :  | 9001999659 |
| i | E-mail ID :  | pvt_iti_p106@yahoo.in, bhandari.pc@gmail.com |
| j | Location Rural / Urban :  | SEMI URBAN |
| k | Approach/How to Reach:  | http://en.wikipedia.org/wiki/Nimbahera |